Thursday 13 of May 2021 from 10:00 to 12:00
Please, register here: https://us02web.zoom.us/webinar/register/WN_INXhtMHwQ8e9jNWr7g4mnQ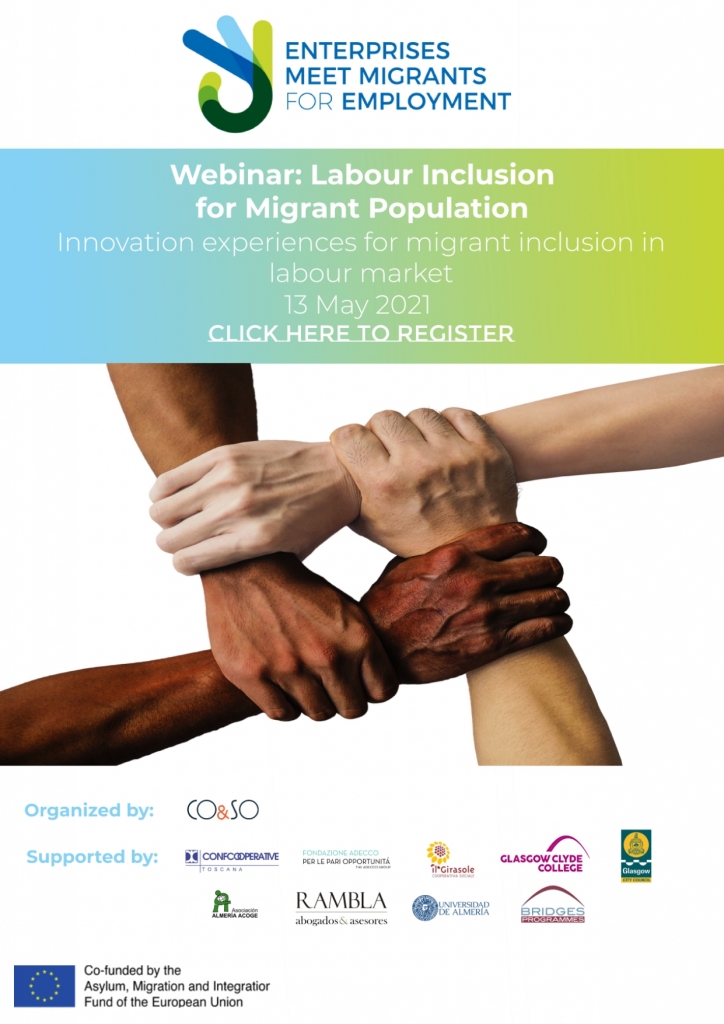 It is a pleasure to invite you to the ONLINE AMIF WEBINAR of the EMME project, a project Co-funded by the
Asylum, Migration and Integration fund of the European Union, that started on January 2019. The project
aimed to promote and foster the integration of migrants into the labour market, through the active
involvement of companies. The project developed an approach based on the activity of local networks
composed by key actors in the fields of socio-economic inclusion of migrants, vocational training and support
and representation of companies, and It has been tested in three local contexts: Italy, Scotland and Spain.
At this event you will have the chance to learn more about the project, you will hear the testimony of
migrants and companies that have benefited from it, and you will have the opportunity to learn about other
good practices in this field.
We would like to invite you to participate in this online event and share with you this amazing experience!
See you the Thursday 13 of May 2021 from 10:00 to 12:00 CEST!
Please, register here: https://us02web.zoom.us/meeting/register/tZckceusqD4pGN0UjDDGjMTM8oMlTN_rjehF!
If you want to have a look to the project, please visit: http://www.emme-project.eu/progetto/